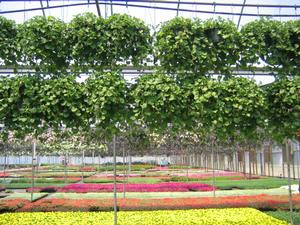 We strive to provide our customers with great plants at a great value with superb customer service. We offer competitive delivery rates and minimums, however you are always welcome to visit and pick your plants up. We offer plants for all aspects of your landscape design or garden center displays. Annuals, Perennials, & Woody Ornamentals are our core selections that are available in a variety of sizes. We also provide Fall Garden Mums, Poinsettias, Ornamental Grasses. Browse and take a look at what we have to offer, then give us a call if you need further assistance.
Common Name: Abelia

Some varieties like 'Rose Creek' will grow only 24-30 inches tall, while other varieties like 'Little Richard' get to be 6 feet. Blooms well throughout the growing season and likes full sun.

...
---
Common Name: Red Maple

The Red Maple is one of the most adaptable trees in the Eastern United States. It can grow in wet or dry soil and in poor soil quality. Getting up to 100 feet tall the Red Maple is often used as a shade tree in the landscape and appreciated for it...
---
Common Name: Lace-leaf Japanese Maple

Beautiful burgundy foliage year round. Short ornamental tree with a graceful weeping habit. Wonderful specimen.

...
---
Common Name: Bloodgood Japanese Maple

This beautiful upright Japanese Maple holds its burgundy leaf color all season long. An elegant specimen perfect for any yard or garden.

...
---
Common Name: Southern Sugar Maple

Sugar Maples will grow about 1' to 2' a year. The are slower growing than red maples and in turn are stronger with a harder wood. The leaves turn a brilliant yellow in the fall.

...
---
Common Name: Moonshine Achillea

Perrennial with finely dissected gray-green foliage and lemon yellow flower heads. Thrives in full sun with reasonable drainage and moderate summer water.

...
---
Common Name: Agastache Blue Fortune

Blue Fortune features tiny, tube shaped lavender-blue flowers tightly packed in rounded 4" long spikes. Flowers bloom freely all summer and are attrractive to butterflies. Emits a pleasant minty-anise fragrance.

...
---
Common Name: Blue Ageratum

Will attract butterflies all season. Soft blue powderpuff type flowers with a uniform & compact growt habit....
---
Common Name: Ajuga

Groundcover with beautifully scalloped leaves.  It bears showy, upright spikes of blue to pale violet flowers that reach 8-10 inches in late spring. 

...
---
Common Name: Chives

Leaves a mild onion flavor and are used in soups, salads, and as a garnish....
---
Common Name: Brazilian Red Hots Alternanthera

Alternanthera is a structure bedding plant used for mosaic planting and decorative foliage in beds and mixed containers. Narrow red foliage with a compact bushy habit. This is one tough plant that rewards with beautiful colors....
---
Common Name: True Yellow Alternanthera

Alternanthera is a structure bedding plant used for mosaic planting and as decorative foliage in bed and mixed containers. Yellow green foliage contrasts with bold colors for high visual energy. Compact and bushy habit, with excellent staying power...
---
Common Name: Dill

Seeds, leaves and stems are used primarily to flavor pickles. Also can be used in other culinary ways. Great on fish with butter, with potatoes or pasta....
---
Common Name: Serenita Angelonia

Lush flower spikes on willowy plants that perform well in hot climates, humid or dry. Beautiful in borders, beds and containers.

...
---
Common Name: Columbine

Wonderful Perennial prefers morning sun or dappled lighting. Stunning and unique flowers. 

...
---
Common Name: French Tarragon

This is the real culinary Tarragon. It's narrow shiny leaves have a rich peppery-anise flavor, making it a natural with chicken and fish. It is also a tasty addition to mushrooms, leeks, and potatoes and essential in bearnaise and other creamy sauces...
---
Common Name: Asparagus Fern

This attractive ornamental foliage plant furnishes complementary texture to mixed containers. It is widely used in hanging baskets and is a great addition to any combination planter....
---
Common Name: False Spirea

A clump-forming perennial with attractive fern-like foliage. Feathery flower plumes extend above the foliage for a soft but vibrant summer look.

...
---
Common Name: Japanese Aucuba

Densely upright-rounded to rounded shrub consisting of a thicket of erect or arching, limitedly branched shoots: always a rather neat and tidy evergreen shrub. -Dirr's...